Emerging Canadian Designer Hayley Elsaesser On Her Crazy New Collection & Body Diversity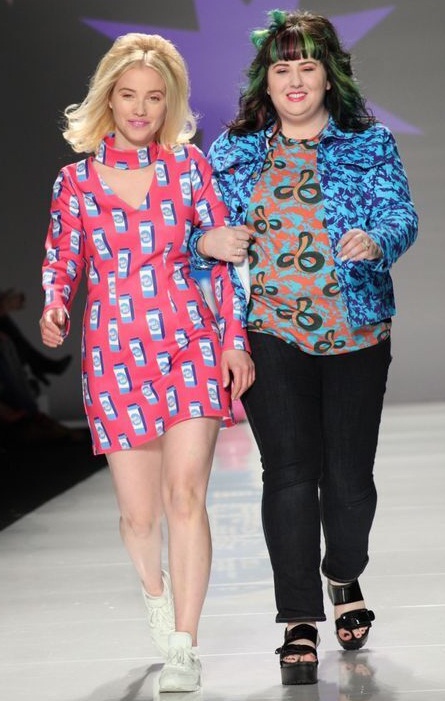 Recently at Toronto Fashion Week, emerging Canadian-born and Australian-educated designer Hayley Elsaesser unveiled her latest Fall 2016 collection of funky neon prints. Staying true to her love of rainbow bright shades and youthful patterns, the Toronto-based designer revealed a bowling alley inspired line on the runway.
Elsaesser, who was trained at the Queensland University of Technology, launched her eponymous label in 2013. Almost three years later, she has risen from a fresh graduate to an up-and-coming design talent with celebrity fans such as Katy Perry.
Real Style spoke to the unconventional young designer about her latest colourful creations, the differences between Canuck and Aussie fashion and body diversity on the catwalks.
Real Style: Describe the inspiration behind your latest collection.
Hayley: The collection is called Gutterball and it's inspired by the Big Lebowski. The movie is kind of a funny story with this guy, where someone comes and pees on his rug because they think he's a different guy with the same name and it's kind of this crazy story. He hangs out in a bowling alley, which has kind of inspired the bowling aspect of it and it was just kind of a fun, weird, crazy movie to be inspired by. This really takes me on an adventure when I'm designing my prints.
Real Style: As an emerging Canadian designer, what are some of the challenges you've had to face?
Hayley: Probably showing at Fashion Week. It is an expense, and getting support in terms of sponsors and that kind of thing. It's a really amazing experience. I think it's kind of hard as an emerging designer. I feel like in the industry here, people like to support you a little bit more if you make it somewhere else, in New York or London. This was beneficial to me, because I started out in Australia. This might sound crazy but I haven't had that many challenges and I feel that the industry here has supported me a lot, from the get-go, and kind of embraced the injection of colour.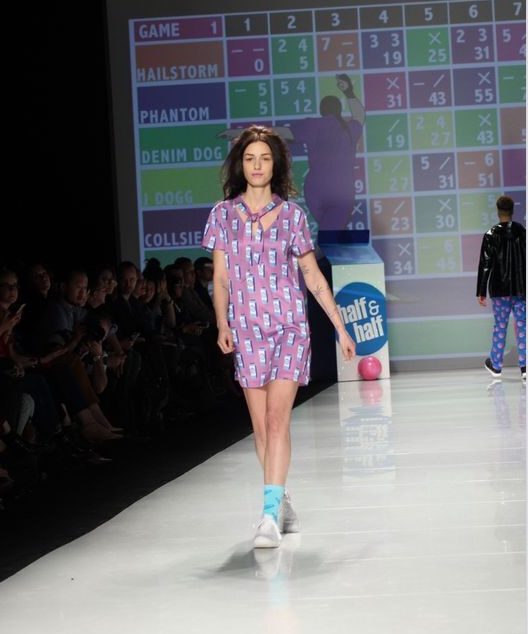 Real Style: What are the biggest differences you have noticed between Canadian fashion and Australian fashion?
Hayley: Australian fashion is a lot crazier, a lot more colour, it's always really sunny and bright there. I think people like to dress more fun in the summertime in Canada, but it's kind of like that all year round in Australia. A lot more colour and people like to mix prints, and it's a little more adventurous.
Real Style: Do you have a favourite piece from your upcoming collection?
Hayley: I think the pink milk carton mini dress!
Real Style: Do you have a favourite material or fabric which you absolute love working with?
Hayley: I love neoprene, because it prints the colours really nicely but it's also so flattering on different shapes and sizes. That's my most popular style of dresses, when I do them in neoprene, because it's just so flattering to the female body.
Real Style: How do you feel about body diversity in the fashion industry?
Hayley: I think there could be a lot more of it, and that's kind of what I'm trying to do with what I'm doing on the runway.
Real Style: Last but not least, what is your favourite fashion memory?
Hayley: I remember I was at Value Village trying to get a Halloween costume when I was a kid, and I found these amazing lime green floral flares when I was ten years old. My mom didn't want me to buy them because they were too crazy, but eventually she let me.
Photos: Paul Ross for OPIQUE / Top of the Runway
---
---
SUBSCRIBE NOW
Free to join! Get the hottest fashion, beauty and celebrity news, enter exclusive subscriber giveaways and be the first to receive the full digital version of REAL STYLE magazine.
JOIN NOW!