Designer David Dixon Talks Honouring Ovarian Cancer Survivors With His New Gene Collection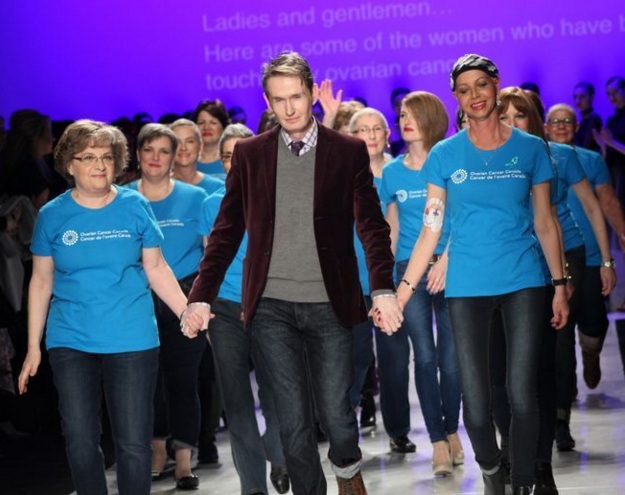 Last year, established Canadian eveningwear designer David Dixon lost his beloved sister, Susan, to cancer. While coping with the devastating loss, the Mississauga, Ontario-based design talent decided to channel his grief into an inspired collection for Fall 2016.
Dixon, a Ryerson University fashion graduate who launched his eponymous label in 1995, recently presented the new line at Toronto Fashion Week in March. Known as the Gene Collection, the latest initiative from the seasoned designer was created in partnership with Ovarian Cancer Canada.
Real Style spoke to Dixon about the significance of his sentimental new collection, his usage of denim and why the Gene Collection merges fashion with awareness of women's health.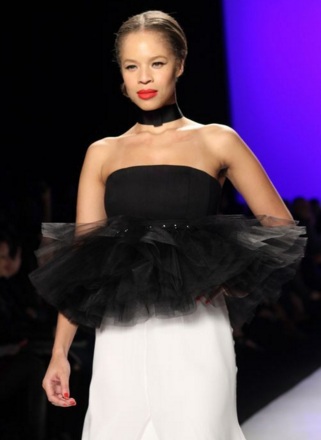 Real Style: Your Fall 2016 collection pays tribute to your late sister. What can you tell us about your new designs?
David Dixon: For fall, we tried a different approach to the collection. We're not necessarily showing a collection that will be for retail sale. After my sister passed away in May 2015, Ovarian Cancer Canada called me out of the blue. I think I took that as a sign to say "Okay, I need to design another collection again", using Toronto Fashion Week as a vehicle for communication and conversation.
We developed a Gene collection, talking about genetics, as well as transferring that over to jean, as in the fabric, and hoping that we developed a conversation and had people talk about it. It's also empowering women to make sure that they check their family history with their family doctor and understand what the risks are. Knowledge is power.
Real Style: Do you have a favourite look from your new collection?
David: My sister had every coat I ever made, so the trench coat that is in the collection was sort of an homage to her. She said "my coat, my coat, my coat", even before it hit the runway! That was a special piece. For me, it stood out a little bit, because she loved that. She loved all my coats.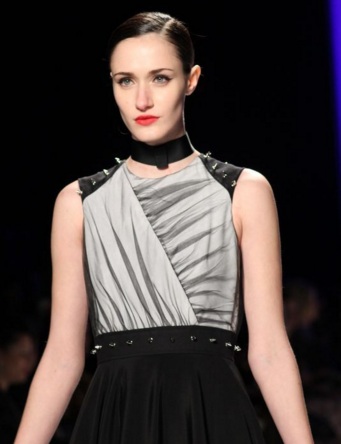 Real Style: Describe your favourite fashion memory.
David: [My Toronto Fashion Week Fall 2016 show] is the best memory I have. I was able to celebrate my sister, I was able to celebrate with women who are fighting a good fight and educating people, in terms of entertaining them as well. Also, touching people who might not have known what to expect, and are all of a sudden sparking a conversation in their heads and saying "Maybe I should talk to my doctor."
What a great response, I was overwhelmed by the support in the room tonight.
Real Style: In your opinion, is there an essential piece that every woman should have in her wardrobe?
David: Every woman should have the right fitting bra. I've learned a lot about that over the years. It comes down to your favourite pair of jeans. We all have them, we all love them. They give us a sense of power. It's our go-to comfort, but still makes us feel great. Other than that, a little black dress.
Real Style: You've been in the business for 21 years! What kind of advancements would you like to see in the Canadian fashion industry in the coming years?
David:  I think we're making strides in that. We had Mississauga mayor Bonnie Crombie and Toronto mayor John Tory [at the show]. We're trying to evoke that fashion is considered part of arts and culture, and that we should be putting that awareness out there as well. It may be for commerce, but what we do supports a huge industry as well, and we need that support.
Photos: Paul Ross for OPIQUE / Top of the Runway
---
---
SUBSCRIBE NOW
Free to join! Get the hottest fashion, beauty and celebrity news, enter exclusive subscriber giveaways and be the first to receive the full digital version of REAL STYLE magazine every month.
JOIN NOW!