Beauty Review- Karen Dermo Cosmetic Phytoplankton Moisturizing Lotion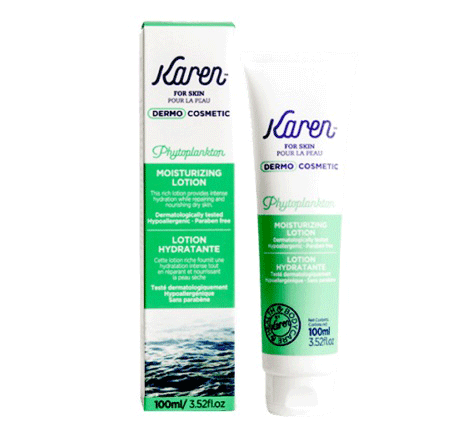 What It Is: Karen is a Canadian company that is based in New Brunswick. The company creates products centred around the ingredient phytoplankton. Phytoplankton is a micro-algae that is found in the ocean, and contains antioxidants, essential amino acids and important vitamins.
What We Thought: The lotion contains Easy Algae Plankton Extract, and the product claims that it will hydrate your skin and repair dry skin . The product does live up to this claim, because immediately after applying the moisturizer on to our skin, we felt the hydrating sensation. For those who have dry skin, the product will help reduce redness. It's a good moisturizer to apply before putting on makeup, because the lotion absorbs into the skin quickly. To get the best results, the tube says to apply twice a day, once in the morning and once at night. We found that after applying the moisturizer twice a day, our skin did feel smooth and soft.
Pros: The moisturizing lotion does have many great qualities. It is dermatologically tested and paraben free, which means that the lotion is not made of certain chemicals. For those who have sensitive skin, it's a good product because it claims to be hypoallergenic and oil-free.
Cons: The product is only available at Pharmsave, Rexall, Pharmachoice and Guardian, among many other community-based pharmacies across Canada.
Photo: Karen
---
---
SUBSCRIBE NOW
Free to join! Get the hottest fashion, beauty and celebrity news, enter exclusive subscriber giveaways and be the first to receive the full digital version of REAL STYLE magazine every month.
JOIN NOW!