Create The Perfect New Year's Eve Look With This Makeup Tutorial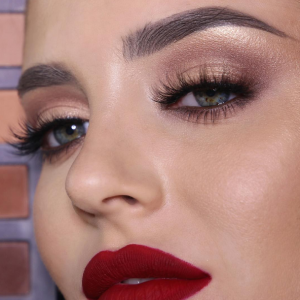 Photo: chloemorello on Instagram
With New Year's Eve parties rapidly approaching, try channelling your inner glamazon with a bold beauty look. Whether you're celebrating with friends, family, or that special someone, try this bold red lip beauty tutorial to turn heads wherever the evening takes you.
1) Prepare your visage with primer: The first step is to apply a primer, which will help your makeup go on smoother and last longer.
2) Add foundation: In order to prepare your visage and create a flawless base, apply a medium to high coverage foundation.
3) Perfect your brows and prepare your eyelids: Next, fill in your brows to give them a thick, even appearance and apply eyeshadow primer on and around your lids. Apply a light gold shadow to your lids and the inner corners of your eyes, following it with a medium brown in the crease. Define the outer corners with a deeper brown, blending it out with a thick eyeshadow brush.
4) Apply your eyeliner and curl your lashes: Apply a matte brown eyeliner to your upper and lower lash lines, blending the pigment out with a brush. Follow with a thin application of brown eyeshadow to soften the liner. Curl your lashes and apply mascara to your upper and lower lashes. Apply fake lashes if you desire a more dramatic effect.
5) Use concealer, bronzer and highlighter to bring your beauty look to the next level: Apply concealer under the eyes and dust the face with powder for maximum coverage.Next, apply bronzer to the cheekbones and sides of the face. Highlight your cheeks, nose and cupid's bow with a champagne coloured highlighter for a luminous and luxurious glow.
6) Finish off your look with a glossy and gorgeous pout: Prime your lips with a nourishing lip balm. Apply a glossy red lip for a glamorous retro effect, and prepare to stun as you step out for the night.
---
---