"Canada's Smartest Person" Host Jessi Cruickshank Shares Her Redhead Beauty Secrets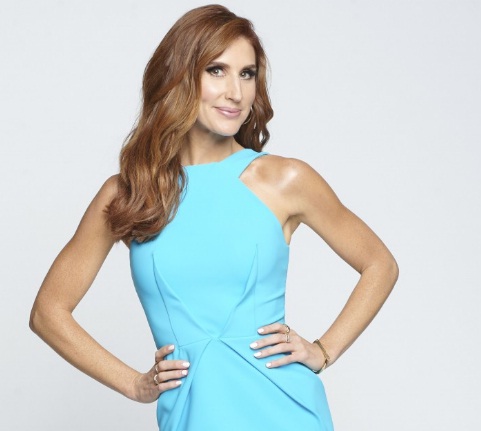 With her modelesque figure, porcelain skin and signature fiery hair, Jessi Cruickshank is undeniably a true Canadian beauty. The 35-year-old Calgary-born television personality currently hosts the CBC shows Canada's Smartest Person and The Goods, and can be spotted from a mile away. Cruickshank, who is a busy lady with her hectic hosting schedule, always looks perfectly chic and elegant in front of the cameras. Real Style caught up with the veteran TV host about her must-have skincare fixes, tricks for flattering her fair colouring and her celebrity beauty icon.
Canada's Smartest Person airs tonight on CBC at 8 p.m. ET.
Real Style: What are some of your top beauty products?
Jessi: I am a fanatic for Sally Hansen Airbrush Legs. For me, I am a pasty, freckly redhead. I am so pale that my skin is virtually translucent. You can see my veins through my skin! I use it everywhere. It gives you a little bit of colour and a bit of a glow, and it doesn't rub off.
I'm a huge fan of Dermalogica. Their Charcoal Remedy Masque is totally black and like tar over your face, and it gets really hard. You feel young and refreshed, and they have a moisture mask which is really good. Then false eyelashes, I don't even try to make them look natural. For me, a false lash is just like a "go for it" secret weapon. Without my false lashes, I feel like an angel without wings.
Real Style: Do you have a favourite beauty icon?
Jessi: As a young and insecure redhead, I always idolize and look up to the Anne of Green Gables of the world! Right now, I think Julianne Moore is doing so many things right. She is a stunningly beautiful redhead, a woman who is not in her twenties, and she is pulling off trends, beauty looks and hair looks that are so youthful and sophisticated.
Real Style: Tell us about your fitness secrets.
Jessi: I'm a bit of a hot yoga junkie. When I dedicate an hour to working out, I am not eating doughnuts, which is what I would prefer to be doing at that time. When I dedicate an hour, I really like to sweat. I feel like I got my money's and my time's worth. So, hot yoga, whether or not it's the best form of exercise, I just like that I feel really sweaty. It makes me feel like I have accomplished something.
Photo: CBC
---
---