Get A Cool Mixed Side Braid In A Few Easy Steps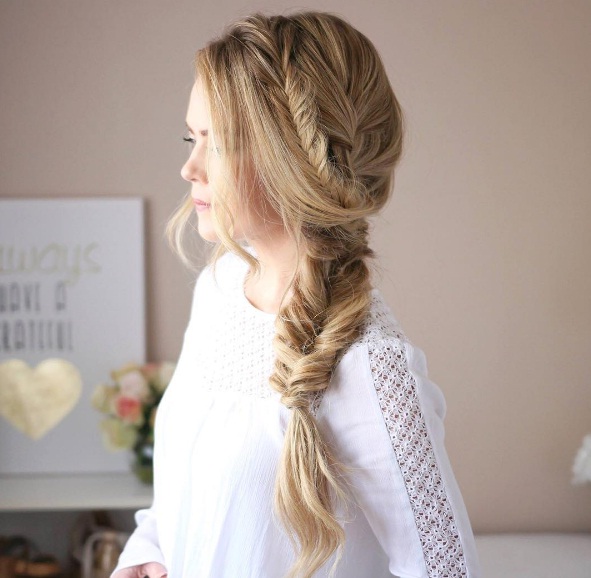 Photo: missysueblog on Instagram
For hairstyling lovers who are searching for the perfect braid, there's nothing like an elaborate side braid to instantly transform your messy tresses into a luxurious plait. As you prepare for summer music festivals and weekends at the beach, take your hair inspiration from this tutorial and rock a mixed, textured braid now.
1) Start off by loosely curling your tresses: To begin transitioning your long locks into an intricate hairdo, wrap thin sections of your hair around a curling iron. Start off by curling the front of your locks, and gradually work your way to the back. Spritz a texturizing spray in your hair to maintain your newly crafted loose curls.
2) Begin braiding a thin section near your face into a skinny side braid: Next, take a very thin section of your hair on one side of your face, and turn this into a thin side braid. Use your fingers to gently loosen the plaited sections, and create a pancaked effect. Take a comb, and carefully backcomb the ends of your braid for a finishing touch.
3) Create a thicker side braid on the same side: To continue making your hairstyle, bring other sections of your hair forward and integrate these strands into a loose side plait. Use an elastic band to hold the tresses in place, and loosen the plaits for a thicker look.
4) Combine the two braids into one: To integrate the two plaits into one unique style, take the skinny side braid and twist it into the thicker braid. Next, continue braiding your hair into one integrated braid until you reach the ends of your strands. Use your fingers to loosen the sections, and wrap a thin section of hair around the end of your braid. Keep your hairstyle in place with an elastic band, and adjust any free-falling strands or side bangs to complete your new look.
---
---
SUBSCRIBE NOW
Free to join! Get the hottest fashion, beauty and celebrity news, enter exclusive subscriber giveaways and be the first to receive the full digital version of REAL STYLE magazine.
JOIN NOW!