Get A Flawless Dutch Fishtail Low Bun With This Tutorial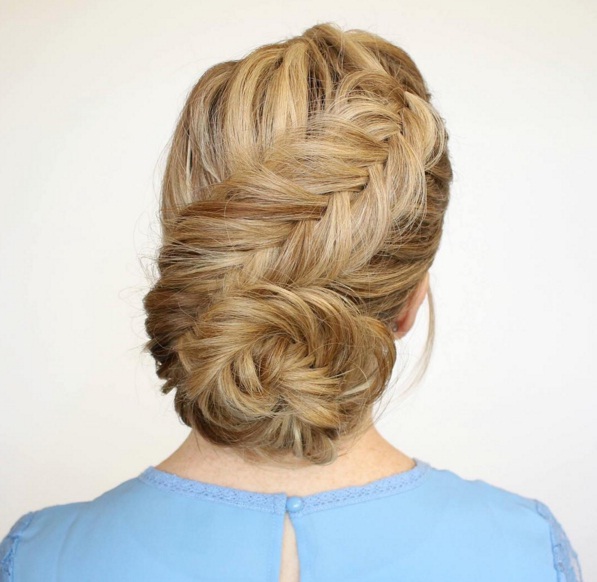 Photo: missysueblog on Instagram
Whether you're heading out to a cocktail party or simply looking for a new and creative way to style your locks, variations on the classic fishtail braid are a perfect solution for Spring 2016. If you're tired of long, wispy tresses trailing down your back, this flawless and sophisticated hairstyle can instantly refresh your springtime beauty look. Here's how to master a Dutch fishtail low bun in just a few simple steps.
1) Start by brushing back your locks and pinning back the top part of your hair: To launch your hairstyle, start by using a paddle brush to smooth your locks. Next, take a section of sleek and tangle-free hair from on top of your head, and pin these locks into place with bobby pins. Create slight volume with a subtle hair bump, and then take a thin, surrounding segment of hair from one side of your head.
2) Braid this section into a skinny plait which falls diagonally across the back of your head: To continue crafting your easy hairstyle, continue braiding your hair. Create a thick fishtail braid across the back of your head in a diagonal formation. Next, knot your new fishtail side braid with a hair elastic and use a series of bobby pins to keep the sections of your plait under control. To adjust your strands, use your fingers to loosen the braided segments and create a thick pancaked effect.
3) Carefully roll your pancaked braid into a low updo: For a finishing touch, wrap your braided locks into a low bun right above the nape of your neck. Fix your updo in place with bobby pins, and be sure to use extra pins to secure longer or thicker locks.
---
---