Copy This Gorgeous Formal Braided Hairstyle Now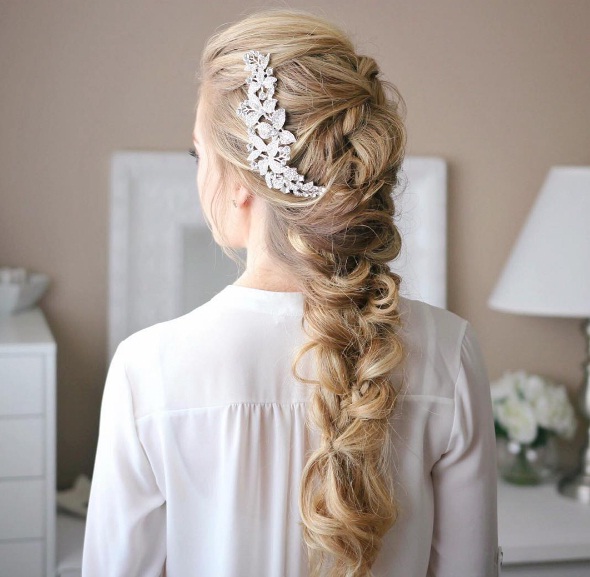 Photo: missysueblog on Instagram 
With wedding and graduation season officially upon us, beauty lovers at every stage of life can probably expect to see an array of updos in the weeks ahead. However, if you're a bohemian bombshell who prefers natural flowing locks to a slick chignon, a fancy braid may be a better hairstyling option. Just in time for all the special soirées on your social calendar, here's how to achieve a perfect yet simplistic plait which can easily work for the evening hours.
1) Start by curling your strands: To launch your hairstyle, start off by using a curling wand to create loose curls all over your head. Next, use your fingers to carefully work through your curled tresses and add volume to your locks.
2) Backcomb the crown of your hair for additional volume: While you can certainly create volume by using your fingers, a comb can help you enhance your locks and bring your hairstyling statement to an entirely new level. Backcomb the crown of your hair, and then carefully pull two sections of your tresses back into a half-up hairstyle. Use bobby pins to secure your strands and keep your hair in place.
3) Create a skinny braid at the back of your head: Once you've fastened your wavy locks into a half-up hairstyle, create a skinny braid right in the middle of your locks at the back of your head. Use a clear elastic to hold the locks in place.
4) Integrate your skinny braid into a wider plait: As the next step in your hairstyle, incorporate your newly crafted skinny braid into a thicker plait. Weave this thin braid into a flat braid against the back of your head, and fasten the braided sections with bobby pins. Continue to pull sections of the new flat braid through the skinny braid for an intricate, looped effect.
5) Curl the ends of your braid again: Once you've integrated your skinny braid into a thicker plait, complete the look by loosely curling the ends of your hair. Adjust any flyaway strands, and add a metallic hair accessory if you're in the mood for a whimsical finishing touch.
---
---
SUBSCRIBE NOW
Free to join! Get the hottest fashion, beauty and celebrity news, enter exclusive subscriber giveaways and be the first to receive the full digital version of REAL STYLE magazine.
JOIN NOW!