Actress Renee Olstead Shares Her Beauty, Hair And Fitness Secrets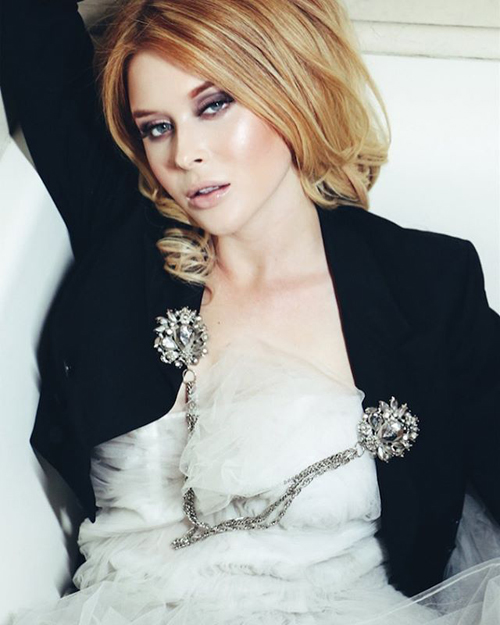 With her gorgeous blonde tresses and flawless skin, Houston-born and Los Angeles-based actress Renee Olstead is certainly a radiant sight. The 26-year-old star recently played Lady Irene St. John in the stage adaptation of Sherlock Holmes, and stole the spotlight alongside her fellow actor David Arquette. Real Style caught up with Olstead about her beauty essentials, hair care and best kept fitness secrets. Here's what she had to share with us about her makeup must-haves, workout regimen and more.
Real Style: What are your favourite beauty products?
Renee: I love Bobbi Brown's Skin Foundation Stick. It's one thing that I use every day. I use Modere skincare products a whole lot. I use Obsessive Compulsive Cosmetics brushes, which are all vegan and amazing. I use a lot of Lime Crime lip glosses, and my other favourite line is Gerard Cosmetics. I use a lot of their lipsticks and they're all vegan and cruelty-free, which is important to me. I love the NYX Contour Palette, and Anastasia Beverly Hills. I use all of their brow products, and they have a cream contour palette I use a lot as well.
Real Style: Describe your best tips for maintaining healthy hair.
Renee: I've got sort of an ombre thing going on. I had them sort of mix my roots into my hair, so I can grow my hair out without bleaching it. I'm a redhead, but my hair is blonde right now. So I went with a darker blonde, and I had them pull my roots sort of into my hair. I'm letting it grow. My hair is actually pretty fried, so I'm just trying not to dye it. I worked on one project where they died my hair seven times to get the right shade of blonde. My hair has been through the wringer! I love coconut oil, which is great. I wear hair extensions, which I got hooked on when I was 18. I kind of can't live without them.
Real Style: What is your usual skincare regimen?
Renee: Modere makes a day cream and night cream which I like, because it has to be really simple for me. I don't do a lot to my face. I just wash it with whatever soap is close, usually! I don't use a lot of fancy skin washes or serums. I just try to keep my skin hydrated. My skin is on the dry side, so if I do too much to it, it freaks out and then I have to put eight hour cream all over my face.
Real Style: How do you stay active and in shape?
Renee: I do dance classes; I do Pole Fit which is really fun for me. I will hit the gym as well and do some weights and treadmill, but for me, the important part of exercise is having it be fun. Dance is fun, it doesn't feel like a workout until afterward, when you can't move and you feel like you've been hit by a truck. I go to a studio called Pink Pole Party in Burbank, [California], and they donate all of their profits to breast cancer awareness charities.
Real Style: What are your favourite tricks for keeping up a nutritious and balanced diet?
Renee: I'm vegetarian, so that's one thing that always works for me. I like Quest bars, those are things that I throw in my bag a lot. They're pretty delicious and there's a lot of protein in them. I throw those in my bag as I am going to work, and I know that I may not get a chance to eat. There's actually a service called Postmates, which is amazing that I use a lot. It's a food delivery service and it's super quick. I use Postmates because they do have a lot of healthy restaurants and it's a lot better than me just dashing to a drive-thru or grabbing a croissant. It makes it easier to plan what I want to eat, and then order it ahead of time.
Photo: Dylan Lujano
---
---
SUBSCRIBE NOW
Free to join! Get the hottest fashion, beauty and celebrity news, enter exclusive subscriber giveaways and be the first to receive the full digital version of REAL STYLE magazine every month.
JOIN NOW!