Get A Chic Lace Braid In A Few Simple Steps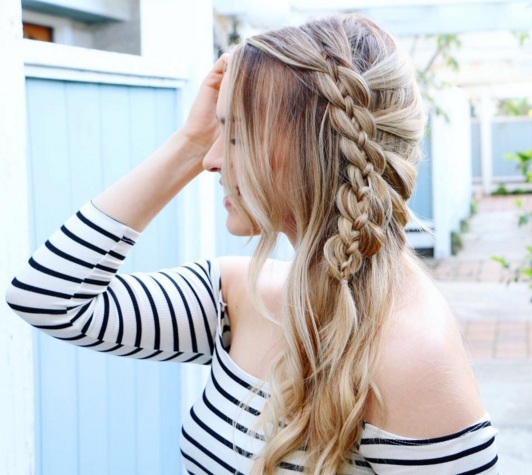 Photo: kayleymelissa on Instagram
For beauty addicts who are looking to bring the perfect finishing touch to their lustrous long locks, transforming your flowing tresses into an intricate and spring-ready braid just may be your hair solution. While we're certainly coveting the season's carefree bohemian locks, we also can't wait to experiment with the bevy of braided styles that are set to make a splash now. Whether you're hitting the party circuit or simply attending a family dinner, here's how to master the versatile and beautiful lace braid for Spring 2016.
1) Start off by separating a small section of hair near your forehead: To ensure a flawless hairstyle, kickstart your new 'do with soft, free-flowing waves. Next, take a small segment of hair on one side of your visage, and carefully divide this section into four thinner sections.
2) Begin plaiting the four sections: After you've separated your locks, start plaiting the newly divided four sections into a lace inspired braid. Gently weave the four sections over each other, to achieve a woven and lacy effect. As you work on the braid, bring another thin section of hair over from the other side and integrate it into the plaited style.
3) Continue braiding your new lace braid: Once you've incorporated four separate sections of hair from the other side into your braid, continue plaiting your strands. At this point, you should have a thin four-strand braid on one side of your head. Use an elastic band to hold your braid together once you reach the end of the plait.
4) Use your fingers to loosen the braided sections: For a finishing touch, loosen the braided sections to produce a loose, pancaked effect. If you slightly pull apart and stretch out the segments, this will create a textured look which will enhance the look of your braid. Arrange any flyaway or misbehaving strands, and prepare to stun with your fierce new four-strand braided hairstyle.
---
---
SUBSCRIBE NOW
Free to join! Get the hottest fashion, beauty and celebrity news, enter exclusive subscriber giveaways and be the first to receive the full digital version of REAL STYLE magazine.
JOIN NOW!