Lady Gaga's Super Bowl 50 Makeup Look- Too Bright Or Just Right?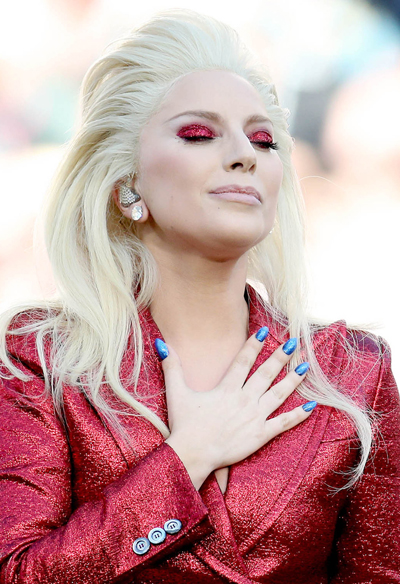 Last night at the Super Bowl 50 at the Levi's Stadium in Santa Clara, California, Lady Gaga made a dramatic entrance. The 29-year-old diva arrived in her signature edgy fashion, as she performed the American national anthem The Star-Spangled Banner. With her glittering red eye makeup, there was no mistaking the fact that the famously eccentric star had taken the stage.
While some adventurous beauty addicts may have taken a shine to Gaga's fierce scarlet eyelids, there's no doubt that her makeup look is an overpowering one. The Artpop singer's beauty statement was crafted by makeup artist Sarah Nicole Tanno, who paired the vibrant eyes with defined eyeliner and fluttering long lashes.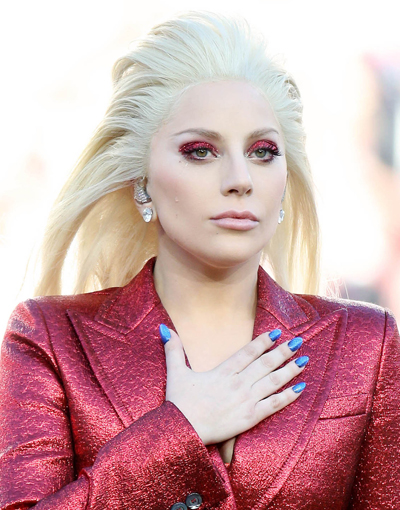 Meanwhile, Gaga kept the rest of her visage looking relatively natural and fresh, with flawless porcelain skin and soft rosy cheeks. Her subtly defined eyebrows and pale pink lip colour contrasted with her over-the-top eye makeup (which is clearly not for the faint of heart).
Is Gaga's makeup from her Super Bowl appearance too bright, or simply another beauty adventure for the non-conformist pop icon? While we certainly wouldn't recommend recreating her shimmering red eyeshadow for a day at the office, we can see daring makeup lovers giving this look a try for the weekend.
However, we must give the platinum-haired star a fitting round of Applause for her colour coordination. After all, Gaga's crimson eyelids were a perfect match with that custom designed Gucci suit.
Photos: Startraks 
---
---