Copy Olivia Wilde's Chic Milkmaid Braids From The 2016 Oscars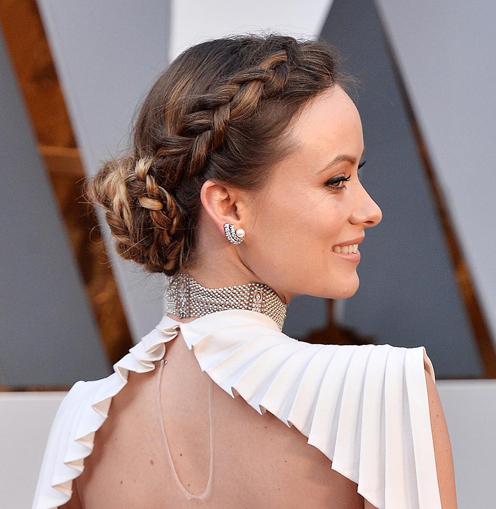 Photo: Startraks 
Yesterday at the 88th Academy Awards at the Dolby Theatre in Los Angeles, actress Olivia Wilde was a stunning sight with her dark locks styled into an intricate braided updo. The 31-year-old Vinyl star looked like a true Hollywood sensation, with milkmaid plaits which brought a whimsical touch to the red carpet hair look. If you're looking to achieve an inspired look for your next night out, here's how to get a similar hairstyle for yourself.
1) Start off by braiding a face-framing section of your hair: Once you've combed out your locks, take a section of hair near the side of your visage and braid this into a skinny plait against the side of your head.
2) Fasten your side braid and use bobby pins to keep stray strands under control: After you've created a flawless braid, use an elastic band to fasten your side braid. Next, use bobby pins to hold your hairstyle in place and to keep any flyaway strands near your crown under control.
3) Create a second braid and repeat the process: To achieve a cool braided effect, repeat these steps by crafting a second braid on the other side of your head. At this point, you should have two braided pigtails.
4) Wrap the braids into a low bun on the nape of your neck: Complete the hairstyle by carefully wrapping your braids and rolling them into a chic, knotted low bun at the nape of your neck. Fasten your bun, adjust your side braids and use a medium-hold hairspray if needed to maintain thick locks.
---
---