Master The Skeleton Braid In A Few Easy Steps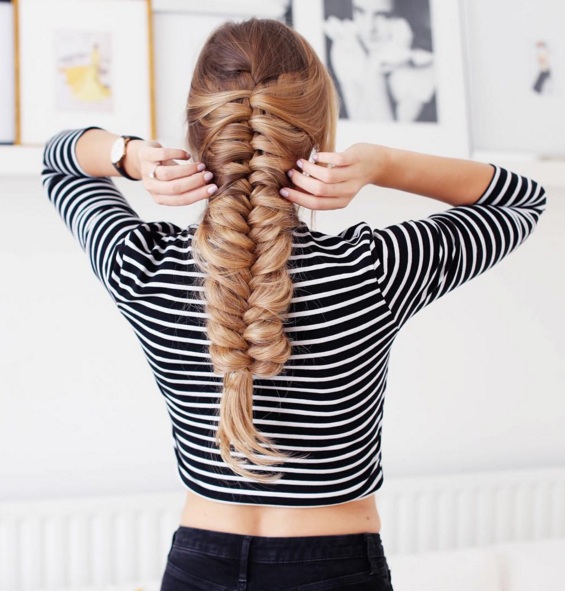 Photo: luxyhair on Instagram 
Whether you're strutting into an early morning meeting or looking to swap your usual sultry curls for a chic evening hairstyle, the skeleton braid can easily revamp your Winter 2016 hair looks. If you're looking to keep flowing tresses under control for both day and night, here's how to achieve this effortlessly elegant 'do in just a few simple steps.
1) Start off with combed and sleek locks: Before you begin braiding your hair, ensure that your tresses are smooth and tangle-free. Use a paddle brush to produce soft and silky strands.
2) Plait a thin segment at the back of your head into a braid: Once your hair is sleek, pull a skinny section of your hair back and plait this segment into a thin braid hanging loose down your back. Next, use your fingers to carefully loosen sections of your braid to create texture. Pull back a thin strand of hair from either side of your face, and then incorporate it into the braid.
3) Carefully add surrounding strands of hair into the braid: Take the surrounding strands of hair from both sides of your head, and slowly entwine the strands into your existing braid. Continue this step, until you have reached the end of your woven braid.
4) Plait the tail of your hairstyle into a skinny braid: To complete your hairstyle, braid the end of your hairstyle into a thin plait for a finishing touch. Next, finish wrapping up the braid by bringing the free-falling sections of hair into your braid. Loosen the twists of your braid for a natural, twisted effect. Smooth back any stray strands, and enjoy your new braided look.
---
---
SUBSCRIBE NOW
Free to join! Get the hottest fashion, beauty and celebrity news, enter exclusive subscriber giveaways and be the first to receive the full digital version of REAL STYLE magazine.
JOIN NOW!